YMCA Cambridge and Peterborough and YMCA Suffolk recently merged to form a larger new organisation  –  YMCA Trinity. The merger created the requirement for the design and build a new website, suite of marketing materials and annual report to help promote the vital work of the charity. Adrenaline is proud to have been appointed by senior management at the organisation to undertake the work.
The website project involved the launch of one new online platform through the consolidation of old content alongside the publication of new content and functionality. The project also involved the development of a fresh new responsive design with enhanced functionality and simple-to-use navigation. Adrenaline worked closely with the management and marketing managers of YMCA Trinity to create the new unique look, whilst following national YMCA brand guidelines. The website is a frequently used resource, especially by younger visitors who are looking for advice and support. The site provides a wealth of content, resources and contacts focusing on the areas of mental health, family, housing, employment, health and wellbeing. The new site provides easily accessible information and emergency contacts for those who need immediate help.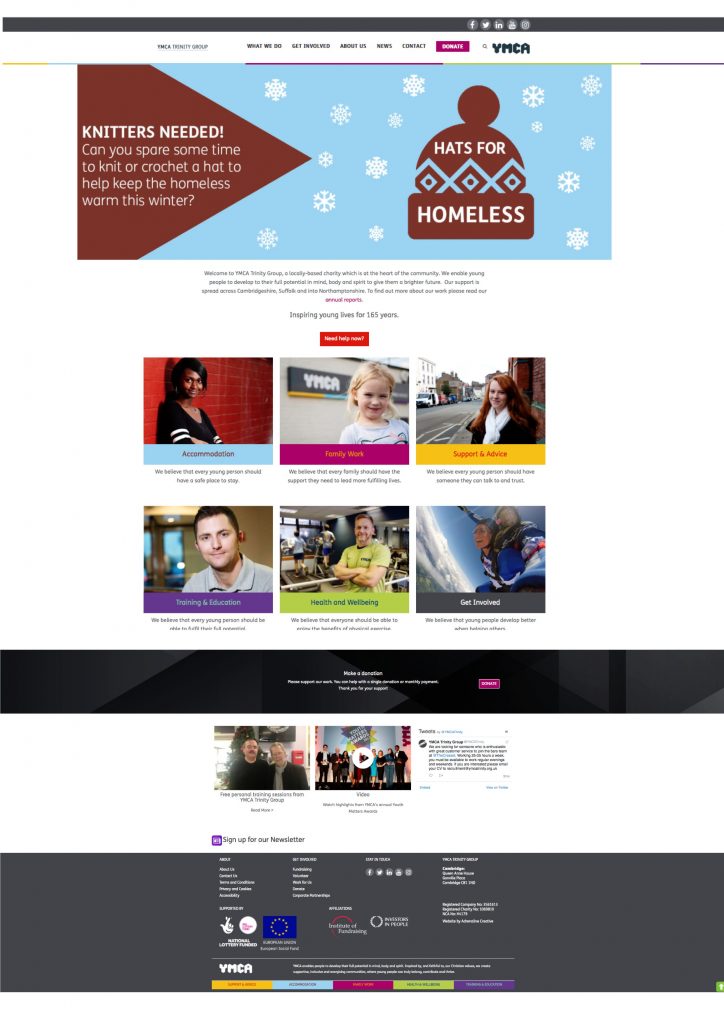 During the design process the client specified that the navigation should be simple, calls to action should be prominent, the content should be visually led and the site should be integrated with social media channels.. As many younger visitors access the site on  mobile devices it needed to be fully optimised and responsive on a wide variety of hand-held devices and major browsers. The site also required the building of a new simple-to-use content management system so that site content can be updated on a frequent basis by the YMCA Trinity's own team.
Alongside the launch of the new site, YMCA Trinity has also launched a new Menu of Services Programme to support schools and other partners. The new service includes courses with content covering staff training, parent /student workshops and qualifications in Health & wellbeing. The Adrenaline team designed a suite of brochures and manuals for use in print and online, and PowerPoint templates to promote the new services, to be used in sales presentations and during courses.